KYLA IS THE SOPRANO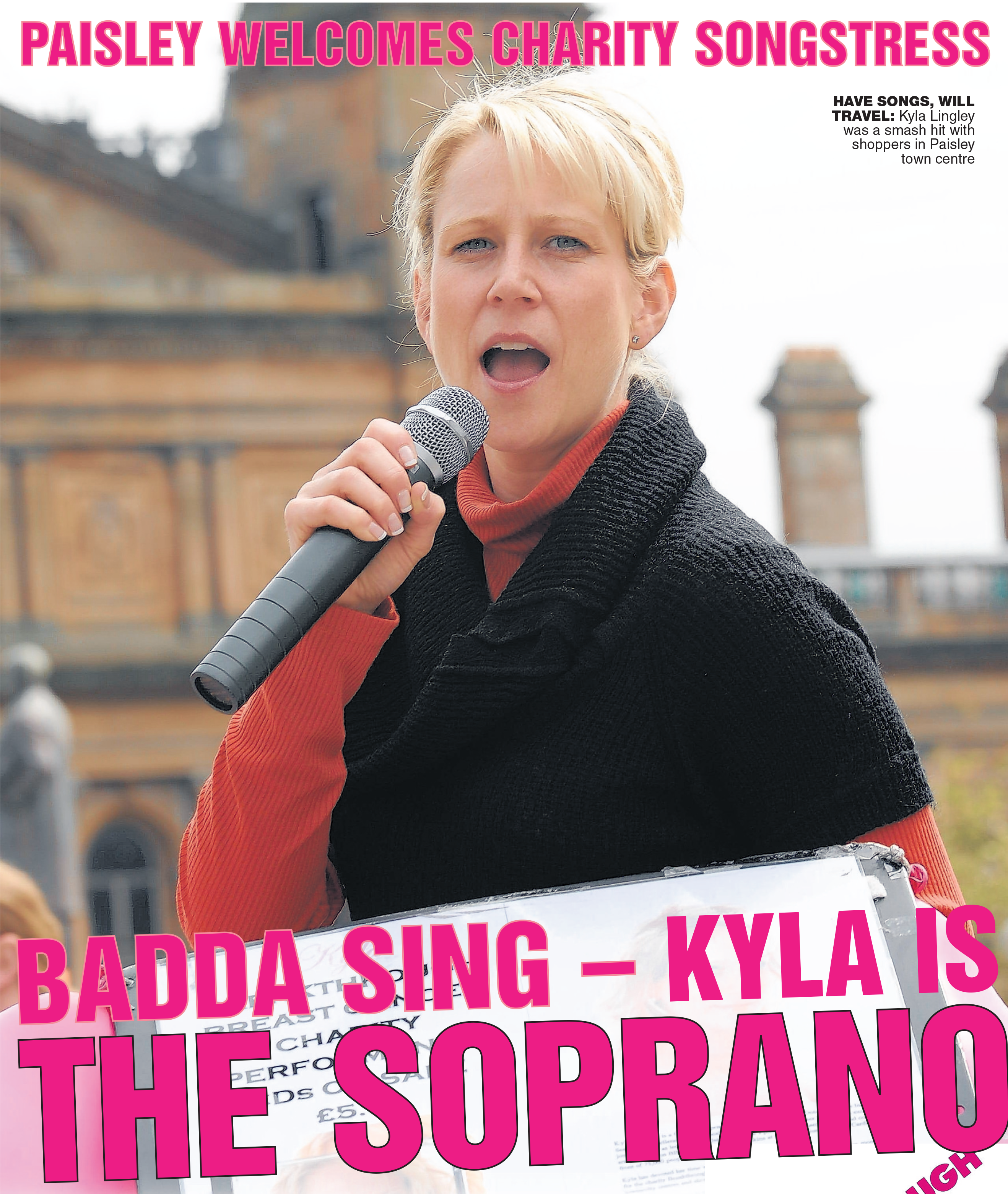 There was music in the air in Paisley town centre as a travelling soprano went that extra mile to coin in cash for charity.
Sweet-voiced Kyla Lingley stopped off in the town as part of a nationwide tour to raise money for Breakthrough Breast Cancer.
The singer -who hails from New Brunswick, Canada, but lives in London – entertained Paisley shoppers with spine-tangling renditions of classic numbers such as Ave Maria, as well as the Andrea Bocelli and Sarah Brightman hit Time To Say Goodbye.
Kyla, a married stepmother of three, set up her stall yards from the Cenotaph and sang for most of the day while selling her own CDs to raise money for the worthy cause.
So far, her UK tour has netted more than £13,500 – and she was delighted that so many Buddies were willing to add to that total.
Kyla also told the Paisley Daily Express how she was inspired to raise money for charity by her mother-in-law, who is a breast cancer survivor.
She said: "The people of Paisley are very friendly and open and they obviously love music. They have been very supportive.
"It's quite a colorful place and there are lots of characters around but they are very nice people and are eager to come up to speak to me about my music.
"I'd say the Paisley people are a very appreciative bunch"
Kyla had already visited a host of other towns and cities across Scotland, including Perth, Glasgow and Dundee, and her next scheduled stops after Paisley were Ayr and Dumfries.
She plans to continue singing across Britain until Christmas as she tries to raise as much money for breast cancer reasearch as possible.
"I've been singing profesionally for about seven years but I only started working for Breakthrough Breast Cancer quite recently" said Kyla. "I don't have a set goal or target amount that I would like to raise but we have already managed to collect more than £13.500m, which is great. I just want to keep singing and raising as much as I can."
Back to News